portfolio
: Gruppo Alumix - newsletter corporate magazine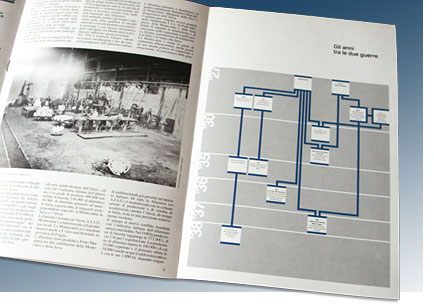 Corporate magazine design, flyers and brochures
client Gruppo Alumix

Gruppo Alumix was a trade association of aluminum manufacturers located in Milan, Italy. In collaboration with Origoni&Steiner Milano, Laura Ruggeri designed and produced a corporate magazine for them.



Corporate magazine - front to back
Gruppo Alumix entrusted her with all phases of the design and production of their magazine. To start, all they could give her was a box of old photographs, some of which dated back to the earliest days of the foundry. Like a detective she put together their story from the pieces they could give her.
She designed covers, layouts, informational graphics and of course used their wonderful historical photographs.
She produced more than 20 issues of their magazine over a period of years including additional flyers, marketing collateral and general graphic design.
• below
Cover and inside page design for the Gruppo Alumix corporate magazine Lettera.