portfolio
: Italian Commitee for Alvar Aalto - graphic design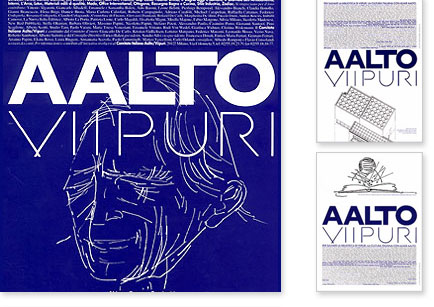 Support for all aspects of the project
client Italian Commitee for
Alvar Aalto

Project in support of the restoration of the municipal library of Viipuri (Russia), sponsored by the Italian Commitee for Alvar Aalto.
This graphic design project included creating the corporate identity, a book, posters, invitation cards, magazine ads, graphics for a travelling exhibition, graphics for a CD-Rom and video.
Book, traveling exhibition and magazine ads
The book showcased the exceptional architecture of the library and cataloged all of the art, donated by Italian artists, that helped support the restoration of the library. The artworks were auctioned to raise money for the restoration.
The book "AALTO VIIPURI" was published by Abitare Segesta Cataloghi in Milano (Italy) and mainly sponsored by Baleri Italia SpA.
Ads were designed and placed in European magazines.



• above left
Book cover and layout design.
• above right
Magazine ads for a European campaign.
• left
Travelling exhibition design.
• note
In my heart I dedicate this project to Roberto Sambonet, one of my greatest mentors of graphic design.
I will never forget his precious direction while designing the ads and the cover for the book. He seemed fine to me and it was impossible not to be touched by his natural sparkling energy. But after a few days he suddenly went into the hospital and died.
Thank you Roberto for your precious teaching and friendly spirit.
—Laura Ruggeri